Leave a lasting impression with bespoke School Furniture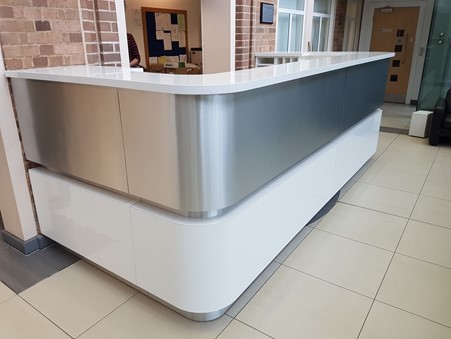 Have you considered how you could be utilising spaces across your school estate as a great opportunity to make a lasting impression through the help of bespoke furniture?
The independent education sector is becoming an increasingly competitive market. Therefore, it is important to make a lasting impression on prospective students and parents, showcasing what your school has to offer.
Ensuring we create furniture that physically fits the space and stands the test of time is important to us, but bespoke furniture can also be an opportunity to create unique, quirky, and impressive spaces throughout your school.
It can be a great way to demonstrate the type of learning environment on offer for students when attending your school.
We can work with you to create bespoke furniture that makes an impact, transforming seemingly 'basic' spaces into areas that provide a positive lasting impression.
Transforming any space with the help of bespoke furniture
You have the ability to create school furniture that perfectly fits any space in terms of physical measurements.
Making bespoke items help you to maximise the space available in all areas of the school, from classrooms, laboratories, learning resource centres, communal spaces, and corridors. Our aim is to ensure that all furniture is both aesthetically pleasing as well as practical.
We have a few examples of where and how you can utilise bespoke furniture to leave a lasting impression, to hopefully provide you with some great inspiration for your own school.
Reception Areas
Your school reception is often the first area visitors will see and is where they start forming an impression of your school.
Through bespoke furniture, you can utilise this space and transform it, giving it an impressive and professional feel.
Here's a look at a project we completed for Edgbaston High School for Girls, where we created a bespoke reception desk, which enabled the school to have a solution that perfectly met the unique measurements of the space, whilst also being sleek and impactful in design to give off a great impression.
Communal Spaces
Communal spaces, such as break out areas, study rooms and even hallways are again another great area where you can utilise bespoke furniture to increase storage capacity, create comfortable spaces and look appealing.
These are just a few examples of how you can utilise bespoke furniture across your school.
If you are looking to transform areas across your school into impressive spaces that leave people talking for all the right reasons, we can work with you to turn your ideas into a reality.
Stay up to date with furniture design trends
Subscribe to our newsletter and follow us on Twitter or LinkedIn.