Witley Direct Sponsor Boxing Day Tractor Run 2018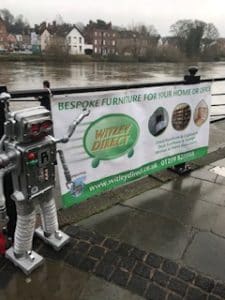 Witley Direct were delighted to sponsor the 2018 Boxing Day Tractor Run in Bewdley, in aid of local charities which raised over £2000.
Witley Direct, a sub-division of Witley Jones Furniture, design, manufacture and install bespoke furniture for the home, including home office, fitted bedroom and storage furniture.
After hearing of the Tractor Run, Wiltey Direct decided to sponsor this great event, which was a huge success.
In aid of the Kidderminster and Worcestershire Prostate Awareness Group and Rory the Robot, the turn out on the day was amazing and it was great to see support from local people, the participants and their friends and family.
The Kidderminster and Worcestershire Prostate Awareness Group is a registered charity, raising awareness and promoting the importance of the PSA (Prostate Specific Antigen) test.
Rory the Robot is an appeal that was launched by the Worcestershire Acute Hospital NHS Charitable Fund in 2014, to raise money towards the cost of a state of the art robotic surgical system, which will be primarily used to treat patients with prostate cancer across Worcestershire. In the county, there are between 125-150 radical prostate cancer operations carried out each year.
Prostate cancer claims the life of one man every hour, so every donation to these amazing charities really does help to save lives and truly make a difference.
Witley Direct were over the moon to be able to sponsor the Tractor Run, in aid of such amazing local charities and it was great to see the Witley Direct banners on the route along the river in Bewdley and on the lead Tractor.
Nicky Langford, Fundraising Officer at Rory the Robot Appeal, made the following comments about the day: "There was a great turn out of people and the event was a huge success!  The total collected with entry fees and bucket collections was £2287.74 – which is amazing! We'd like to say a massive thank to you Witley Direct for sponsoring the Tractor Run".
Simon Downes, Managing Director, Witley Jones Furniture, commented, "The importance of mens health is a topic that we are fully aware of at Witley Direct. We were proud to support such a great event that raises awareness of prostrate cancer as well as vital funds for the charities involved. We are looking forward to building our relationship with Rory the Robot Appeal during 2019."
Stay up to date with furniture design trends
Subscribe to our newsletter and follow us on Twitter or LinkedIn.