Witley Jones design bespoke Mondrian Wall for Delta Financial Systems
Witley Jones Furniture were commissioned by Delta Financial Systems to design and manufacture a bespoke cupboard inspired by Mondrian which would be a feature of the office as well as being functional and used for storage.
Delta Financial Systems' branding and marketing is inspired by Dutch artist Piet Mondrian's Neo-Plasticism style and use of primary colours in grid. When opening the central Birmingham office it was natural that their furniture reflected the branding further.
Established in 1995, Delta Financial Systems create and develop administration technology for the financial services industry. Delta provide technology solutions to some of the UKs largest financial services brands including HSBC and Legal and General from their three offices including their new Birmingham HQ, Nuneaton and London.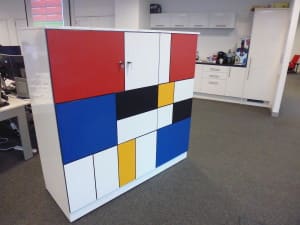 Mondrian Inspiration
Piet Mondrian was a Dutch artist who was influenced by the cubist style of Picasso and took this to create his own abstract interpretation.
After spending a period of time in Paris, he returned to Holland to develop a style he called Neo- Plasticism which consisted of the three primary colours, a grid of black horizontal and vertical lines on a white background.
Delta Financials System's has an Mondrian inspiration running through its core from their website through to printed literature. Now, the Mondrian theme is represented in their furniture and working environment.
Bespoke Design and Manufacture
The aim was to have bespoke office storage furniture designed and manufactured for the Birmingham office which reinforced the Delta branding.
We set out to design a cupboard to store items that would otherwise have been on display around the office, incorporating the Mondrian inspiration and colours to so that the cupboards would be a feature of the space.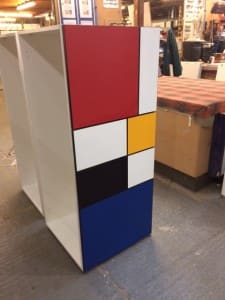 The two cupboards which have coat stores at either end and 9 compartments can easily be moved around the office to make best use of the space as coaster were added to the facilitate this.
"You sometimes have a fear that something like this will not come out as good as you hoped it would in your mind originally – honestly this is one of the few things that has actually turned out to be even better than I hoped!" commented Michael Power, Delta Financial Systems, CEO.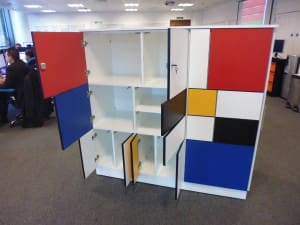 "The colour rendition on the doors is absolutely perfect – every colour is spot on and really vibrant. The doors are lovely and smooth to open, and we have some with locks on for further security, but even the locks do not detract from the overall design."
Simon and his team really contributed well and positively to the overall design process, and kept us informed about the build too, even sending us photos of it being constructed which was really cool! All in all a very strong job, well done and very well executed."
See more examples of Storage Furniture
Stay up to date with furniture design trends
Subscribe to our newsletter and follow us on Twitter or LinkedIn.