Key considerations when designing a Learning Resource Centre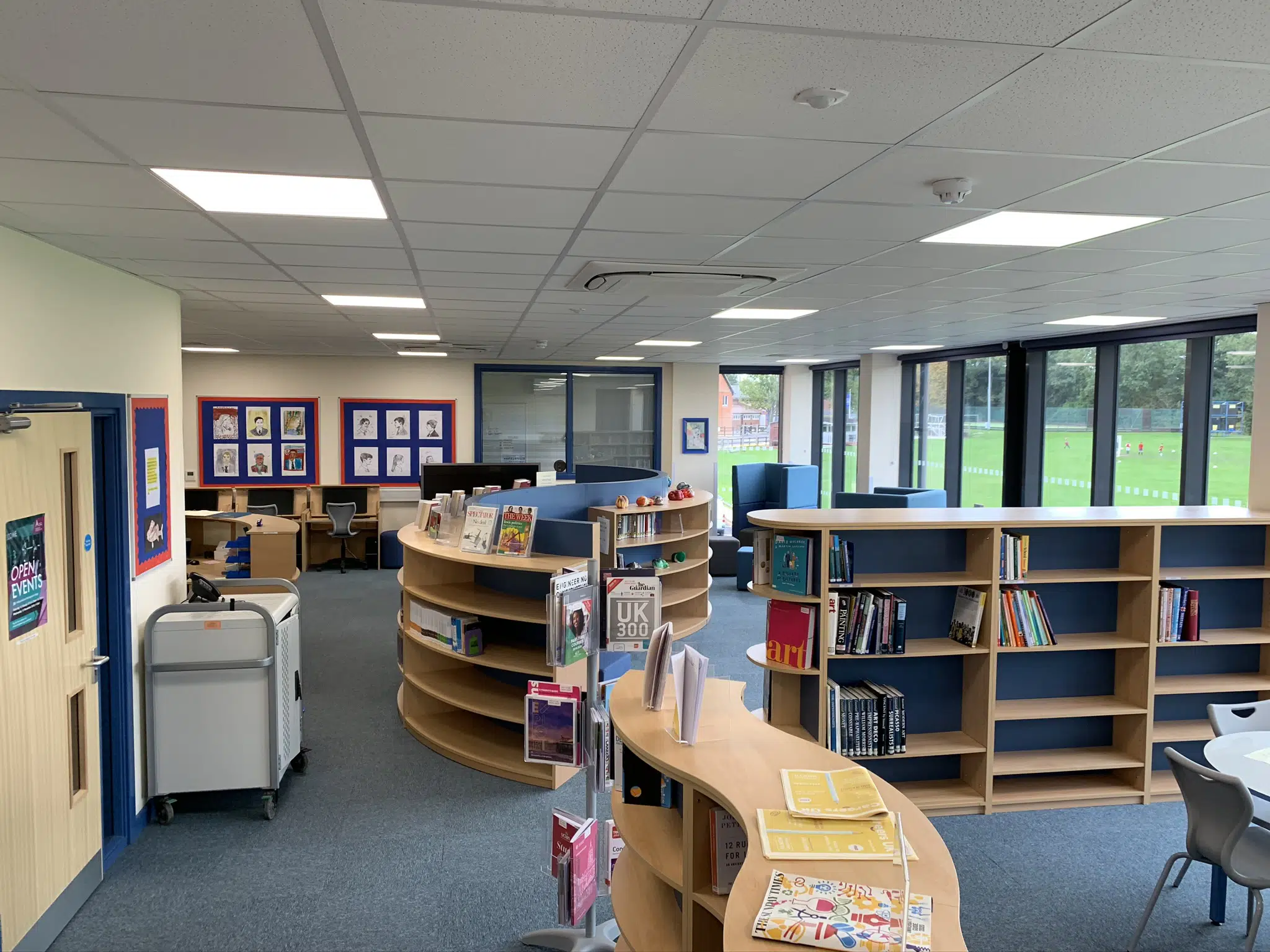 Learning Resource Centres have become an increasingly popular facility within education and for good reason. This multi-purpose learning space seamlessly combines a library, IT facilities, communal and study spaces, creating an environment that both students and staff can take advantage of.
Through intelligent and considered design, schools have been able to create a 'hub' where students can access information through a diverse range of technologies and resources, with additional features that all work together to enhance and support students' experiences and studies.
With this in mind, if you are planning the design of a Learning Resource Centre within your school, it is important to consider the purpose of the space and how you want your students to use it.
Designing your Learning Resource Centre
Due to a Learning Resource Centre being a multi-purpose space, it requires agile and intelligent furniture to help schools make the most of the space.
Here are some factors to consider when designing your LRC:
Practical space
With the key focus of an LRC being to support and enhance your students' learning and study, there should be a lot of consideration and thought put into the design of your desks and seating, as this is where students will be spending most of their time.
Ergonomics should be a key consideration, to create desks and seating that will effectively support students, allowing them to focus and not be distracted by uncomfortable and impractical furniture with poor ergonomics.
Students may also prefer quieter and more private spaces where they can sit and study independently, or read during their free time.
Perhaps you could look to create reading nooks, or small spaces that are segmented away from communal areas, providing a quiet and calming atmosphere where they can work.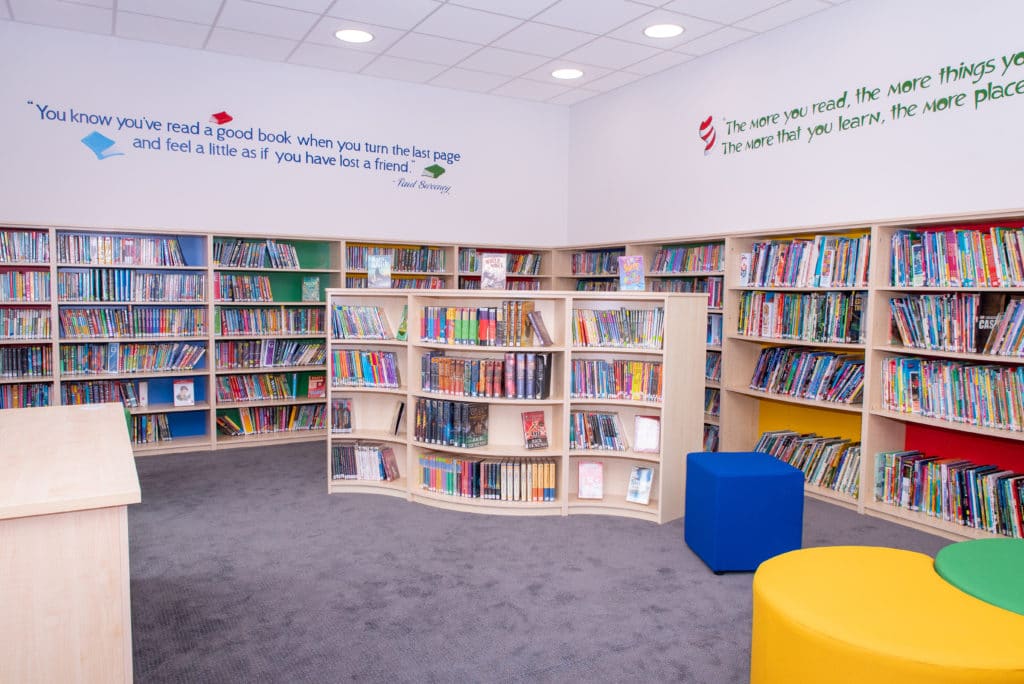 Comfort
Your LRC should also be a comfortable space for students and a place they want to spend their time, both for independent study and during their free periods. So how do you achieve this?
Soft seating plays a crucial role in LRCs, creating spaces where students can sit comfortably to read and study.
Your colour choices can also help to invoke feelings of a calm, relaxed environment. For example blue is a colour that is often synonymous with feelings of calm and peacefulness, and green often symbolises nature, restfulness and serenity.
The design of your LRC also needs to consider more social aspects, with students often using this space to socialise and work collaboratively on projects and/or homework.
You could look to create large desks with lots of seating that allows groups to sit together to work, or look at creating desks with wheels that can be moved and fit together, to create larger working spaces, and then easily separated to create individual work spaces.
It is also important to keep in mind that students also may not always want to sit at desks to study; including moveable soft seating that can be brought around together to socialise and study is a wise consideration; for example, low-level upholstered stools or, even, bean bags.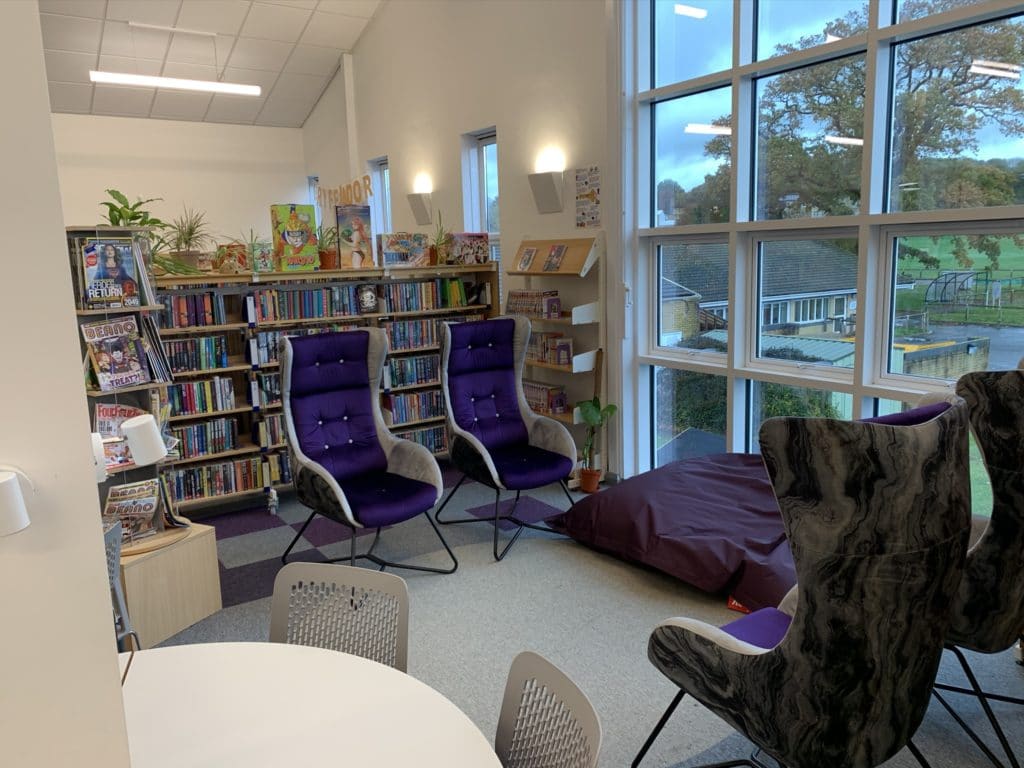 Integration of technology
Technology plays a key role within an LRC, enabling students to access electronic information resources to support their learning.
However the integration of technology within this space does present a number of challenges that should be considered.
The first being the increased safety risks.
For example, trip and fall risks from cabling, electrical risks from issues such as overheating and also security risks, with technology needing to be protected against tampering from students.
To overcome safety challenges, you should look to design furniture that will be able to store your technology safely and securely and also provide effective cable management.
One key consideration is to look at whether you want to provide charging points throughout the space. You can create furniture that integrates these charging points seamlessly, so students can plug in safely.
Another challenge to consider is ensuring that the technology doesn't overwhelm the space. You want to strike the right balance between providing a space for technology-based learning and resources, with providing a space where students can read and socialise away from technology.
One furniture solution that can mitigate these safety risks is an IT desk with a unit to effectively store PC towers. This will mitigate the risk of the tower being damaged by students' bags and/or feet and allow the cabling to be housed within the box, preventing trips and falls.
Impressive space
Not only will your LRC be used by students on a daily basis, but it can also serve as an impressive space to show your visitors and prospective students during open evenings and tours.
Therefore, you want your LRC to be an impressive space and you can achieve this through innovative and quirky design. Consider how you can use shapes, materials and colours to create furniture that helps you to create a space that leaves a lasting impression.
We hope this blog has provided you with some great inspiration and highlighted some of the things to consider if you are looking to design a Learning Resource Centre within your school.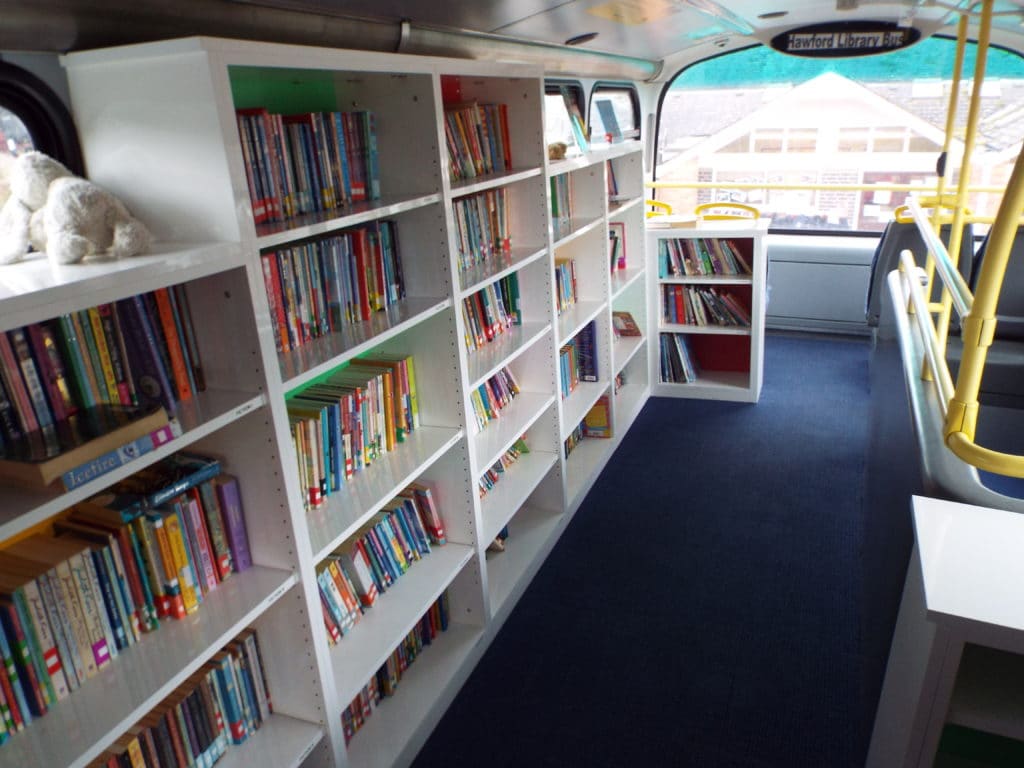 Discuss your requirments & Free Design Service
If you would like to discuss your Learning Resource Centre furniture project with one of the team, we would be more than happy to arrange a call with you to discuss your ideas and needs.
We provide a free design service, producing a variety of ideas for your project including a suggested floorplan, layout and options for each piece of furniture, including materials, finish and fittings.
Stay up to date with furniture design trends
Subscribe to our newsletter and follow us on Twitter or LinkedIn.