KEMP Hospice delighted with Bespoke Office Furniture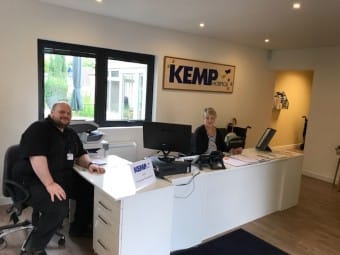 KEMP Hospice, based in Kidderminster, provide a major support system to the local community in Wyre Forest adding quality of life to both patients and carers.
In 2015, the charity extended the hospice and created a new large reception area. We designed and manufactured a bespoke front desk, which needed to be able to stand the test of time, as well as look very attractive to visitors entering the hospice.
During this project, we also manufactured soft seating for waiting rooms and day rooms along with coffee tables and storage furniture.
After reviewing the needs of the reception area earlier this year, Heidi Hawkins, KEMP Hospice CEO, approached us again, to see if we could design a smaller desk, which would match what had been made 2015 in order to increase the reception space.
"We reviewed activity in reception early in 2017 and felt that it would be great to have the opportunity for volunteers and staff from our fundraising team to be able to have a presence in our reception, as a first point of call for fundraising, as this is so important to our charity. We didn't want to replace our wonderful volunteer reception team, but rather create some additional space.
"Not only did Witley Jones manufacture exactly what we needed, but they unexpectedly made and donated this desk to us, which was incredibly kind. We are completely delighted with, not only our new desk, but with our entire dealings with Witley Jones." commented Heidi.
KEMP Hospice highlighted 5 Key Witley Jones credentials –
Above all professional: Witley Jones really care that you are happy with what you receive, so spend time with you discussing options and also assessing where you would like the furniture.
Quality: The quality of all the furniture we've received from Witley Jones is exceptional. We know because what we originally requested is as good as the day it came, not a scratch or mark anywhere.
Reassuring: You feel assured that you are receiving the very best service and quality products, which have been designed specific to your needs.
Friendly and hands on: Witley Jones are a close knit organisation and if you called them, they would instantly know who you are.
Socially Responsible: We approached Witley Jones with no expectations and they donated our bespoke furniture to us, enabling us to use the cost of the furniture to further support our beneficiaries.
Stay up to date with furniture design trends
Subscribe to our newsletter and follow us on Twitter or LinkedIn.