Radley College Staff enjoy the American Diner Experience in their Staff Room
Radley College is an independent boarding school for boys situated in Abingdon, Oxfordshire set on a 800-acre estate.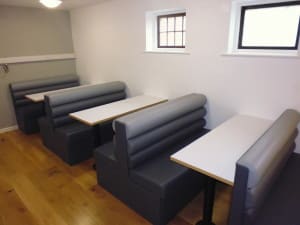 They were about the embark on a major redevelopment project to increase the capacity of boarders at the school therefore there was a need to extend all areas of the estate. The need for extra space to facilitate the increase in pupils included boarding house, chapels, sports and dining facilities.
In turn, the development plans needed to look at the facilities for staff which resulted in the need to relocate a staff dining room.
It was at this stage that David Anderson, Radley College Estates Bursar, approached us with a brief to transform a rather small space into an environment to fit 22 staff members during their time outside of the classroom in a short space of time. David presented us with an initial idea on how the design of the space could look.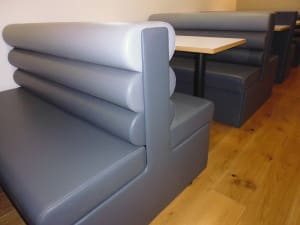 We went away and built up the idea into a plan with scale drawings within three weeks. Once this was approved by the school, we were able to manufacture and install the American Diner themed dining room within 4 weeks.
The design had to be tweaked to allow sufficient room between table and benches so the angle and depths of the backs of the soft seating was altered accordingly.
From the conception of the idea to installation took a total of seven weeks, providing Radley College with an addition, enjoyable environment for staff to spend their downtime helping to facilitate the growth and development of the estate.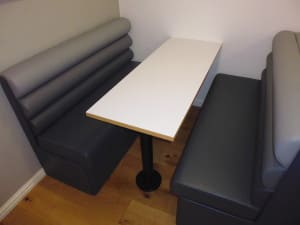 See more examples of Seating Furniture
Stay up to date with furniture design trends
Subscribe to our newsletter and follow us on Twitter or LinkedIn.