The Stourport High School & VIth Form College open Science Laboratories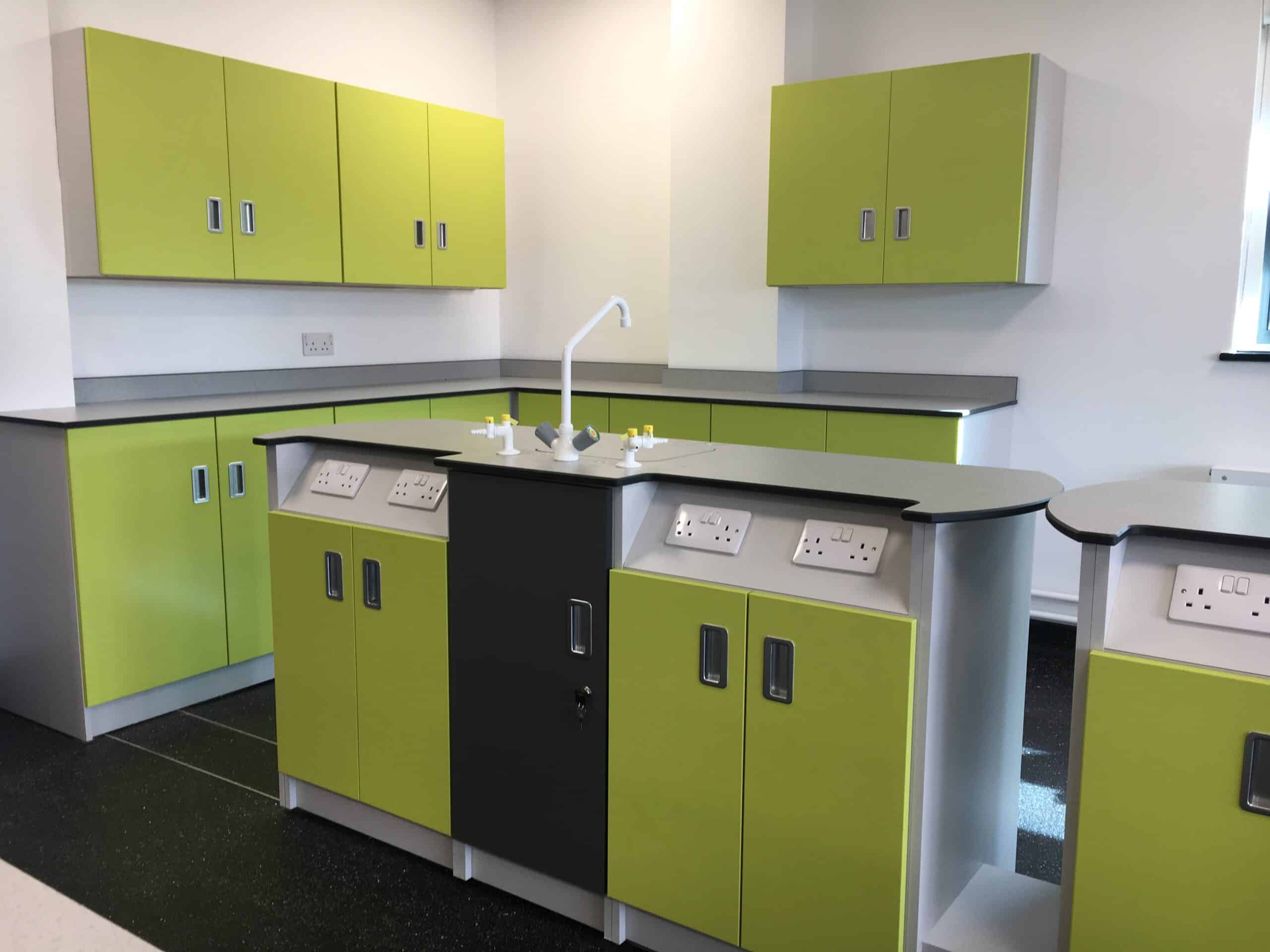 In recent months, we were delighted to complete a project for Stourport High School, supplying bespoke science laboratory furniture for a new build comprising of 8 new science labs and a prep room.
The main focus for the project was bright clean lines and the designs needed to consider space to reconfigure rooms for different lessons and teaching methods. The school were keen to have science laboratories that would inspire the children to learn.
Through the project, we manufactured and installed a wide variety of furniture including perimeter cupboards, storage, desks, stools, wall units, taps sinks, electrical sockets and specialist vulcathene wastes. We also supplied all of the storage units for the prep room and COSHH cupboards.
Design and Layout
The design and layout of the rooms needed to maximise the space available across all of the laboratories, creating an aesthetically pleasing yet practical teaching environment.
The school had a vision of a clean and modern look which would inspire students of all ages during their science lessons.
Introducing a range of carefully selected colours across the science labs have made them "welcoming, modern and bright, and puts us all in the right mood for learning" commented Mrs Nicki Poole.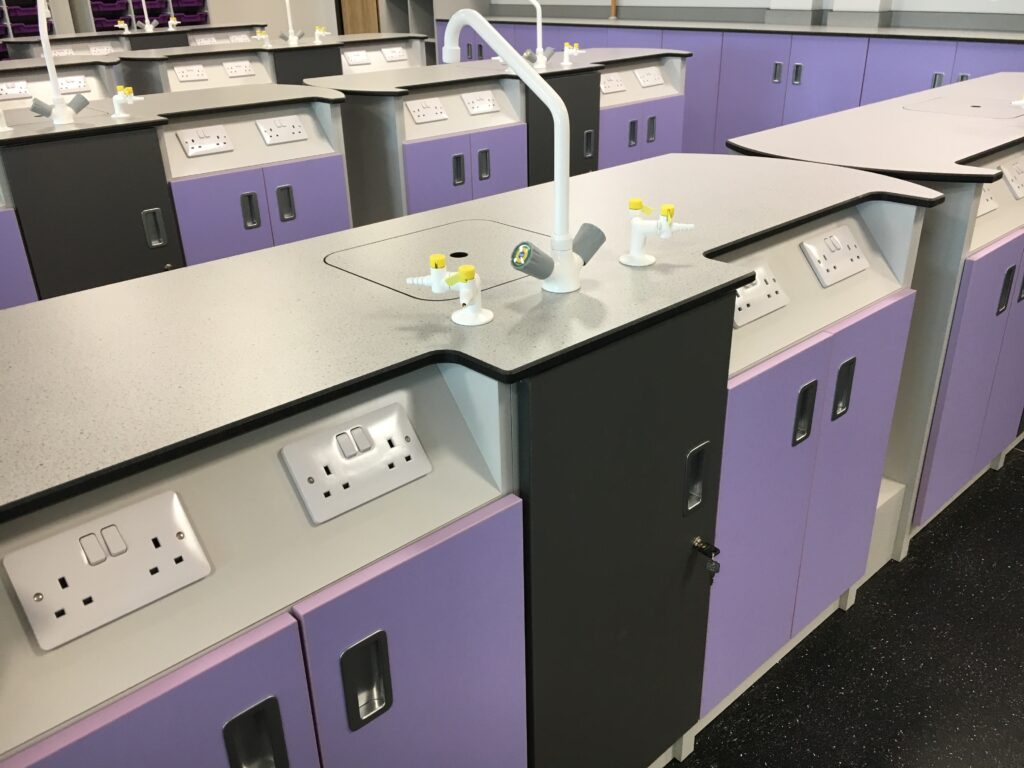 We spent time looking at the importance of colour with the teaching staff to create the appropriate look and feel to the classrooms.
Across all of the science laboratories, it was imperative to ensure the spaces facilitated safe practical work for students and allowed teaching staff to have accessibility to all students at all times.
Intelligent use of cupboards and storage space, ensures that equipment, resources and items are securely stored and to maximise the floor space available.
"The amount of storage available for books and equipment is such an improvement, which makes my life a great deal easier.
"There is so much space around the tables for students to move and stand when doing practical work, the accessibility of the gas taps and electric sockets is great" commented Mrs Nicki Poole.
Ensuring that teaching spaces are flexible is growing in importance for school classrooms, as they can be used to teach a number of subjects and are required to be used in a number of ways. For Stourport High School, we incorporated moveable furniture to enable teachers to change the layout to suit the learner.
Flexible Science Lab Furniture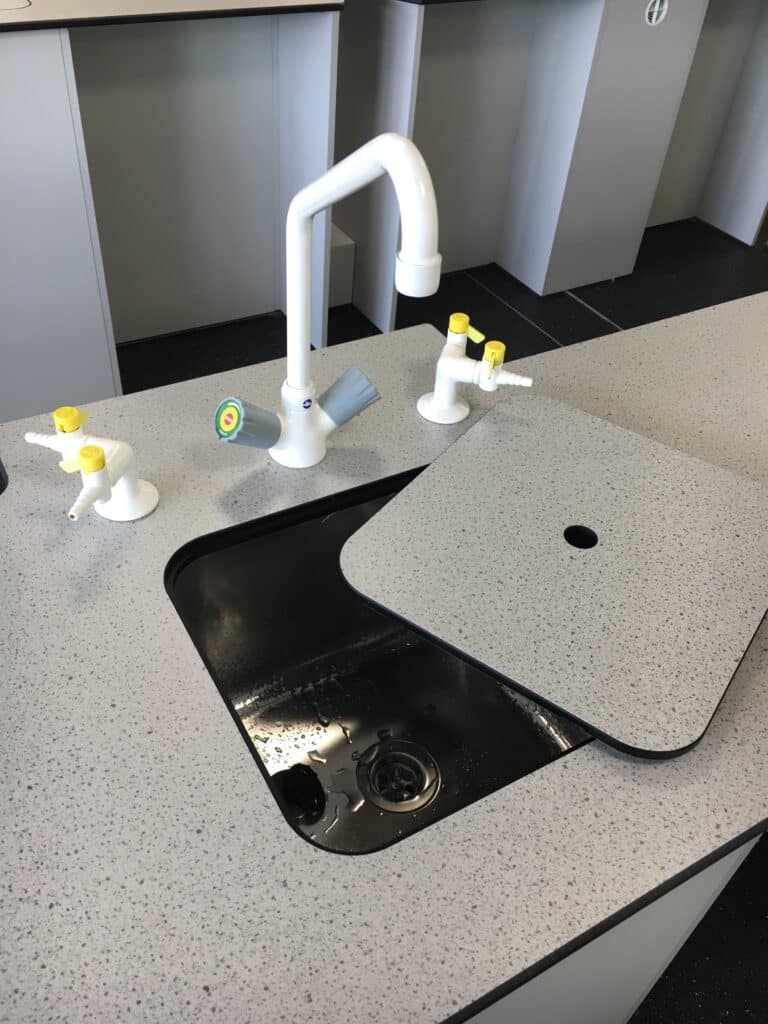 Ms Jennie Prosser, Head of Science commented on how "working in the new science labs has reinvigorated my enthusiasm for teaching. The rooms are spacious and well laid out, with thought gone into creating ample storage and lots of work space for the students.
"The flexibility of the moveable furniture enables rooms to be laid out to suit the learner and the stools are incredibly sturdy and comfortable. A lovely range of colours for cupboard doors that are both easy to maintain and set the right tone for learning."
The items of furniture have been selected to be use by students throughout the school to ensure they are the appropriate size to sit and work comfortably.
We manufactured furniture to specified colours and finishes to provide each laboratory with a distinct identity.
"The furniture had made a huge impact on the teaching and learning environment. I personally feel much more confident at teaching practical work with the students knowing everything works. The positivity it has generated is hard to put into words but there is a great buzz in the place." explained Charlotte Gallagher.
Stay up to date with furniture design trends
Subscribe to our newsletter and follow us on Twitter or LinkedIn.