New Science Lab support's introduction of new curriculum at Teikyo School UK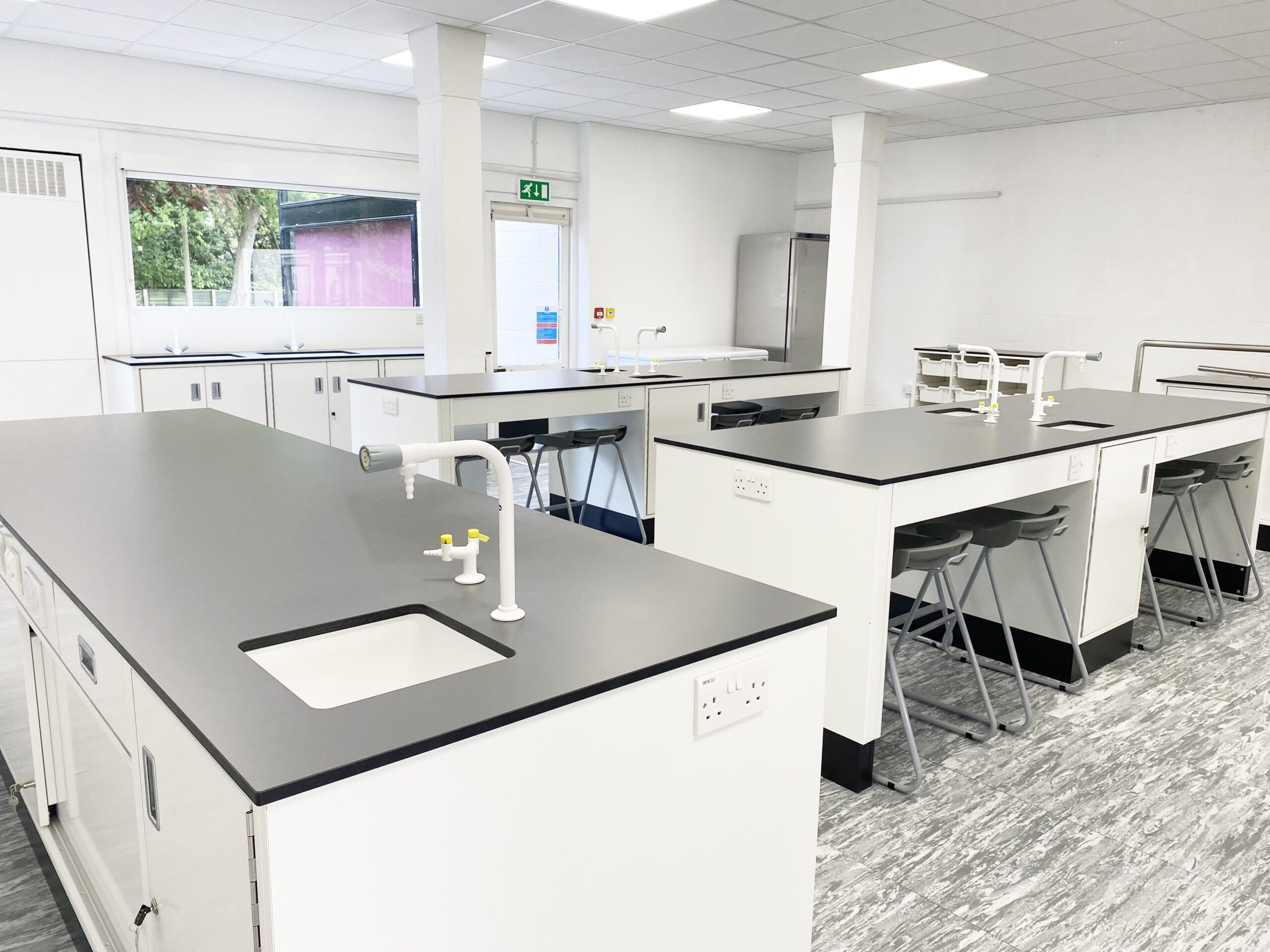 During the Summer of 2022, we were delighted to successfully complete the design, manufacture and installation of a new Science Laboratory at Teikyo School UK, a Japanese international school in Wexham, Buckinghamshire.
Teikyo School have introduced an International Baccalaureate programme, requiring additional science laboratory facilities in order to teach the new curriculum.
We were first approached by the school in April to discuss the project having previously supplied boarding accommodation furniture. We were introduced to Teikyo Foundation's architect to arrange an initial site visit and understand the requirements in more detail.
The science department and architect had a clear understanding of their requirements and design intent, which proved extremely helpful in the early stages. Our team were able to draw the science lab and prep room to meet their requirements to visualise what was an unused space on campus.
Collaborating with the architect, who had a clear layout in mind, we produced 2D and 3D drawings with floorplans and renders of furniture so staff could review and feedback.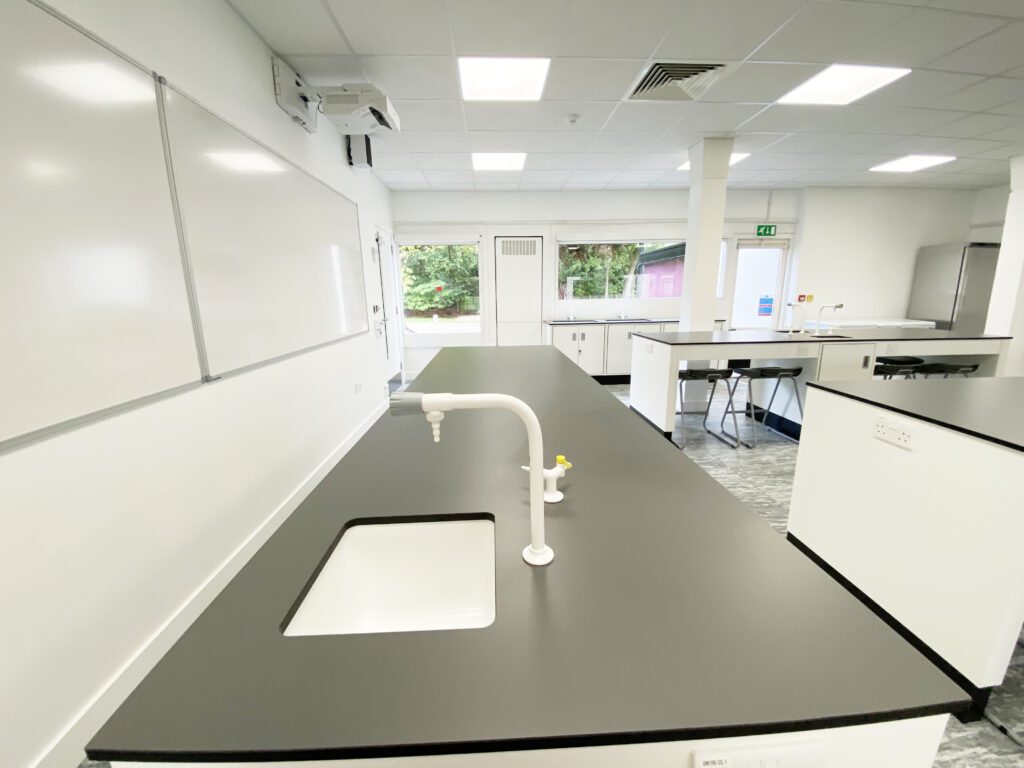 This allowed us to discuss concepts and materials in detail with teaching staff and the architect, tailoring throughout the process before agreeing layouts, sizes and finishes before progressing to manufacture.
With clear and unique design intent from both the school and their architect, it allowed us to break away from our more standard science lab offerings and truly demonstrate our manufacturing capabilities.
We manufactured and supplied Trespa worktops in a contemporary Slate Grey finish with White Melamine cupboards, a mix of sliding door and standard cupboards. We also produced teacher's desk and pupil workstations, as well as Gratnells tray units and bookcases.
In addition, we supplied all the lab specific hardware including water and gas taps, Vulcathene wastes and bottle traps, epoxy resin sinks and white goods too.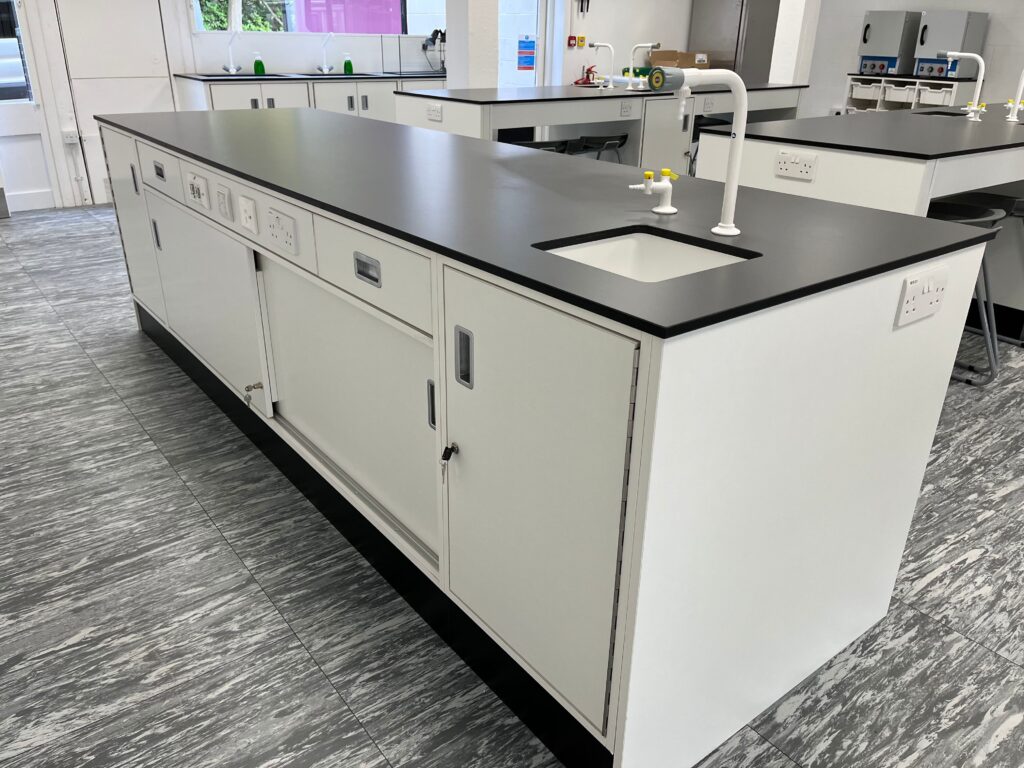 "Having worked with Witley Jones Previously we knew their process and way of working which is why we returned to them with this project. Their wealth of knowledge and experience installing science labs was invaluable in the advice of space planning, specification of taps and utilities as well as guidance around aesthetics and health and safety.
We are pleased with the professional service and communication from Dave and the team as well as the high quality finished product." Dean Simpson, Bursar, Teikyo School.
Stay up to date with furniture design trends
Subscribe to our newsletter and follow us on Twitter or LinkedIn.