Witley Jones secure £100,000 grant to Increase Production
We are delighted to have secured a £100,000 grant from the Worcestershire Growth Fund with the help of Birmingham-based Central Finance, which will now enable us to extend our headquarters.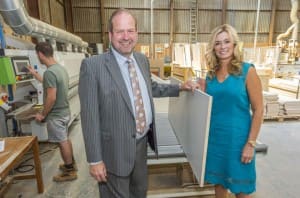 The grant will enable us to expand our floorspace by 5,000 sq ft. and create 11 new jobs for the local area at our current premises on Sandy Lane Industrial Estate.
The variety of work we do here requires significant experience, high-quality workmanship, the very best machinery and technology and more importantly a significant space to house it all.
To continually develop and diversify our products, ensure our products are the highest quality on the market, and keep up with demand, we needed to invest in machinery and additional premises.
To purchase the property was going to be a huge financial commitment for the business, and we had heard of grant funding for manufacturing businesses was available in Worcestershire and called Central Finance directly due to their grant funding success.
The new space will enable us increase production by 20 percent, ensuring that we continue provide bespoke furniture manufacturing services to more schools and businesses across Worcestershire and further afield.
Stay up to date with furniture design trends
Subscribe to our newsletter and follow us on Twitter or LinkedIn.