IT Classrooms: Create the ultimate learning environment through Intelligent Furniture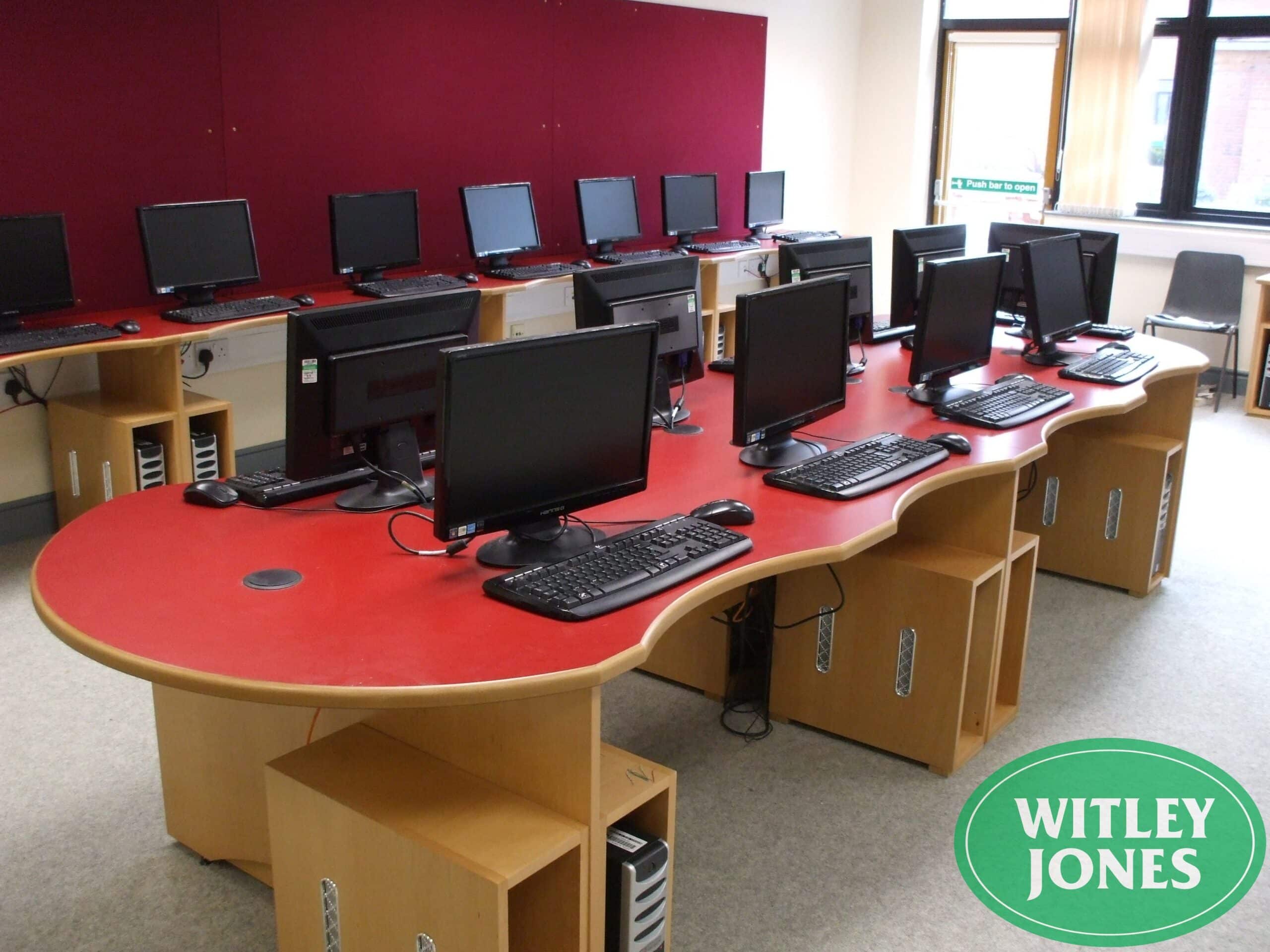 Are your existing IT classrooms meeting your teachers' and students' needs? Through the integration of intelligent furniture, we can support you in creating the ultimate learning environment where students can thrive.
It is clear that IT classrooms require a comprehensive level of technology integration to support students' learning.
It is essential that within these spaces you also have furniture in place that can still facilitate collaborative working and enable your teachers to move freely and safely between students, to provide support where it may be needed.
Our Service
As specialists in school furniture, we can work with you to ensure your IT facilities meet the needs of 21st century learning.
Through intelligent design, we can provide solutions that help you to maximise space and ensure the highest levels of safety, whilst making these classrooms still suitable for multi-purpose learning.
We are able to offer a complete design turnkey service which makes the whole experience as smooth and stress-free as possible for your school.
We will also liaise and collaborate with your IT department to ensure everyone is aware of the timeframes and to establish an effective schedule of works for installation and fitting that causes as minimal disruption as possible.
What type of furniture can Witley Jones provide?
No matter what type of furniture or layout you are looking for in your IT classrooms, we have a solution to meet your needs.
Fixed benching is a great and cost-effective way to maximise floor space and incorporate large numbers. Each individual workstation can be separated with decorative panels or, if you need to have more flexibility, chrome legs can be used and inset to ensure a larger number of pupils can sit along a run of perimeter worktop.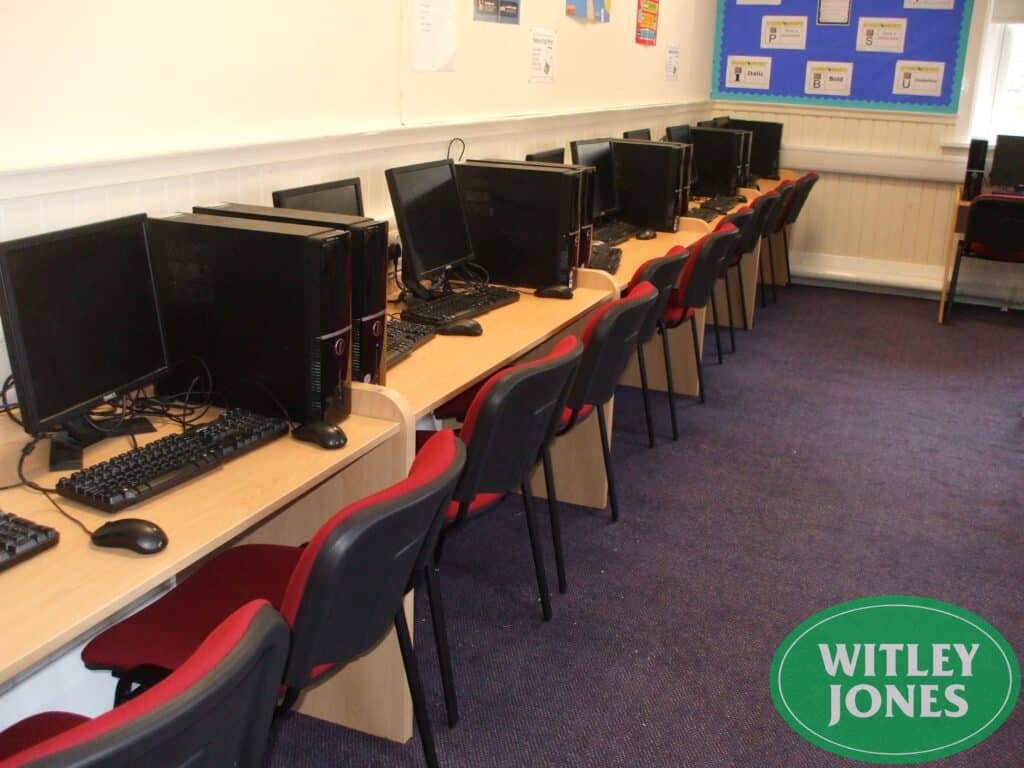 Cable outlets can be cut into worktops (and are available in a variety of colours and finishes) and the management of cables below the desk height can be incorporated into the design of structure itself.
All perimeter benching is tied into the wall to offer a robust solution, with desktops scribed around awkward boxing or pipework if necessary.
The upgrade from this type of suite would include cutouts within the worktop itself giving the desking more shape and better denoting each workstation area.
Cutouts enable students to sit closer to the table and also facilitate the under desk housing of equipment such as computer towers. These can be safely tucked away to ensure the highest levels of safety and reducing trip hazards.
We also offer a 'chevron' design, where the desking is shaped to sit each individual workstation at a slight angle.
This is ideal as it allows the student to be slightly angled towards the front of the class, so they can work independently and still have a perfect view of the teacher and the focal point in the classroom.
We also offer additional features that can help to transform your IT classroom that one step further.
For example, pull out keyboard trays which enable your keyboards to be put away when not in use to continue maximising space and enable the desk space to be used for other purposes when needed.
Benching can also be designed with containment units to house computer units safely and securely off the ground, further helping to maximise floor space and prevent safety risks.
Creating IT Classrooms that perfectly meet your needs
The true benefit of our turnkey service is that we aim to work closely with your school to gain a deeper understanding of your needs, the purpose of the space and the dimensions of the space.
Taking this approach enables us to provide you with a bespoke solution that perfectly meets your requirements and the physical requirements of the room itself, creating IT classrooms that provide students with the ultimate learning environment.
Stay up to date with furniture design trends
Subscribe to our newsletter and follow us on Twitter or LinkedIn.