Science Laboratory Furniture creates Agile & Engaging Learning Environments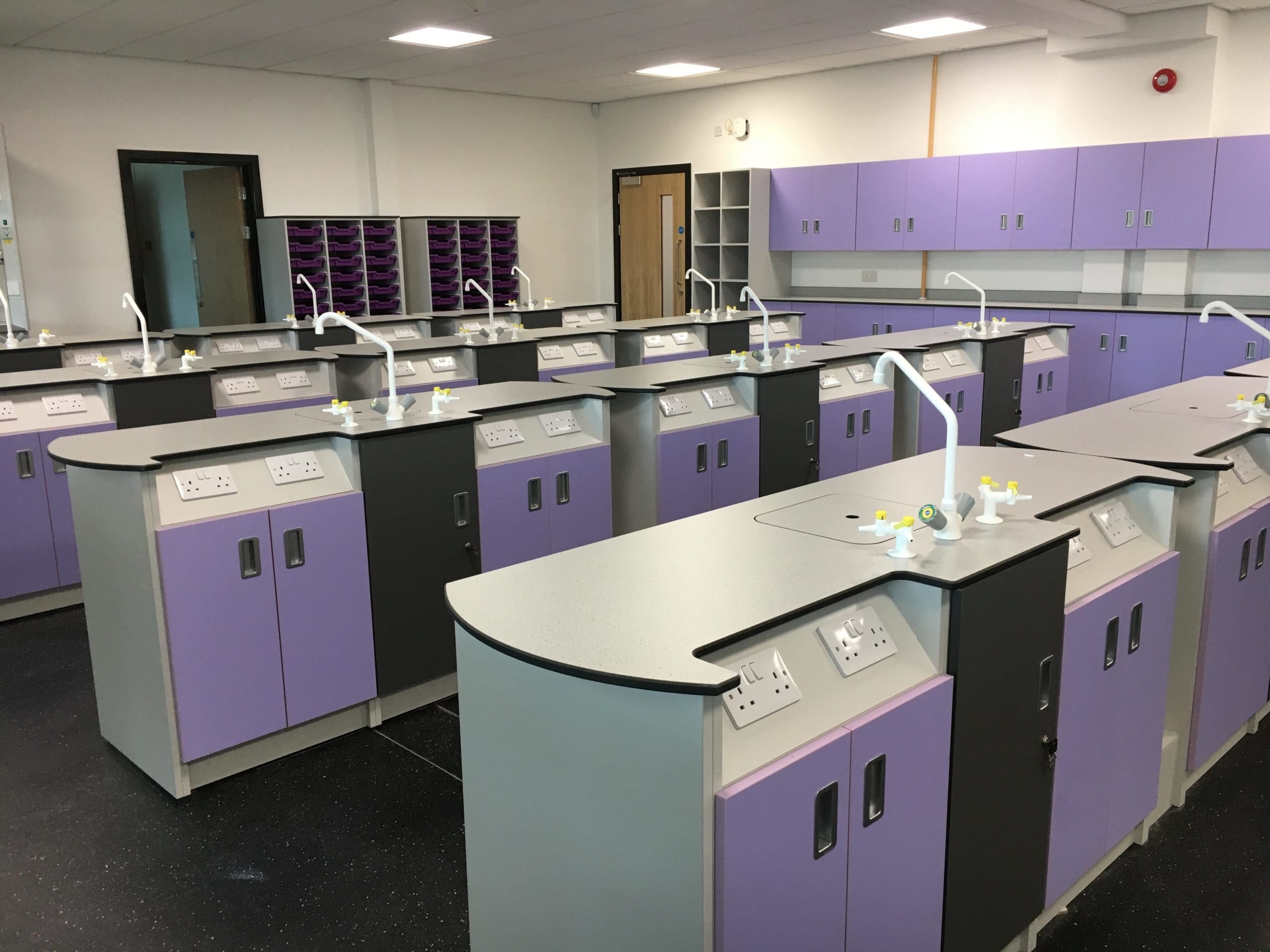 Create a learning environment in science laboratories that is flexible, practical and engaging through agile furniture.
Providing students with a space to learn about the outside world, with both a 'hands on' and theory-based approach, is fundamental when considering improvements to your current science department; affording students the opportunity to put what they have learnt into practice through experiments and practical exercises.
It is imperative that science laboratories facilitate safe practical work for students and allow teachers access to pupils as they deliver lessons whilst creating an environment suitable for the theory-based elements and, potentially, a multipurpose laboratory used across all science subjects.
As specialists in creating science laboratory furniture, we understand the important role that agile furniture solutions play in providing flexibility to help meet these needs whilst maximising the space available.
Ensuring that teaching spaces are flexible is something that is of growing importance for school classrooms, particularly during the current climate where it may be easier to move teachers between science labs and keep pupils in the same place.
Accommodating each teachers' needs and methods of teaching is important regardless of your school's approach to managing the pandemic.
We help schools and teachers to achieve this through a variety of furniture solutions for your science labs, from service pedestals/pods containing your gas taps, sinks and other specialist equipment, through to desks and stools, perimeter cupboards and other storage.
We work closely alongside your school to understand your vision for the space, to create furniture that perfectly meets your requirements, creating an aesthetically pleasing yet practical teaching environment.
Have you considered the layout of the space?
When designing furniture for your science labs, it is vital that you consider the type of layout you want.
From islands and wings, through to pods or bespoke shapes, we can work with you to create a layout that works perfectly for each room, maximising the space whilst also suiting your needs for the room and the teaching style you prefer to use within the space.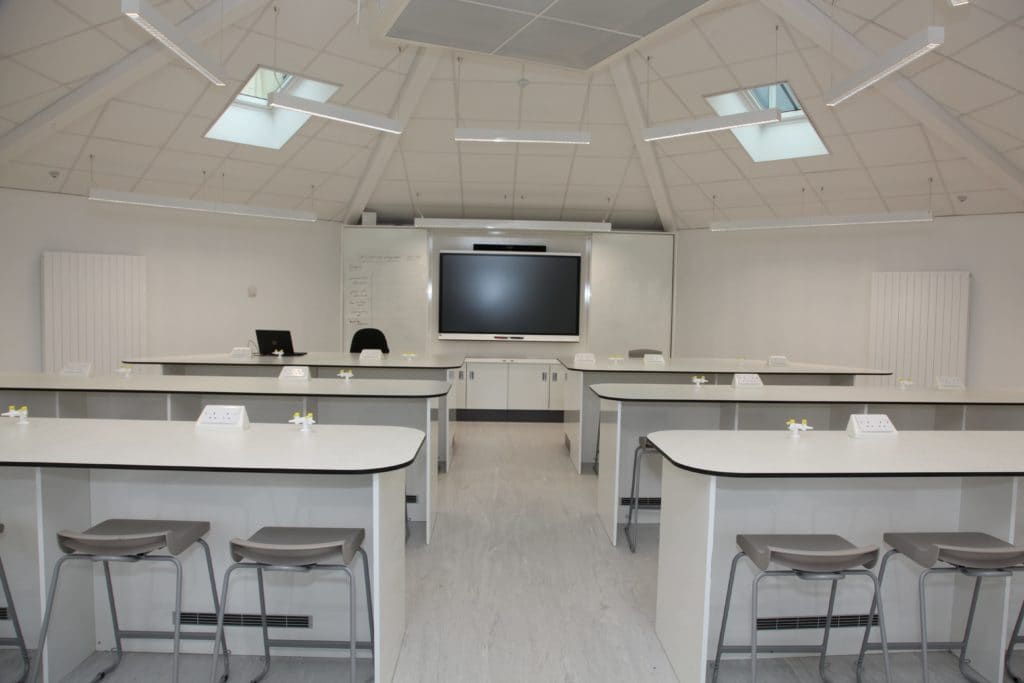 If you are looking to implement more collaborative practical learning amongst your students to encourage teamwork and social interaction, a pod layout could be a great solution.
For this layout, you would have service pods, to contain your gas, sinks and electrical requirements, with desks that are configured around the pod to allow for collaborative learning in groups.
However, you do then need to consider how this could impact on a more theory-based lesson, where you require students to focus and face the front of the class.
We can create a bespoke solution to overcome this challenge, making pupil workbenches moveable so they piece together to be configured around the pod for practical lessons, and then easily moved into a more traditional classroom set up for theory-based lessons.
We will work with you to survey the existing lab and understand your requirements, so we can propose options to consider in your new science laboratory.
Science Lab Storage and Cupboards
Science lessons tend to require a lot more equipment than most subjects. This creates a need for effective storage that can house this equipment both safely and securely when not in use.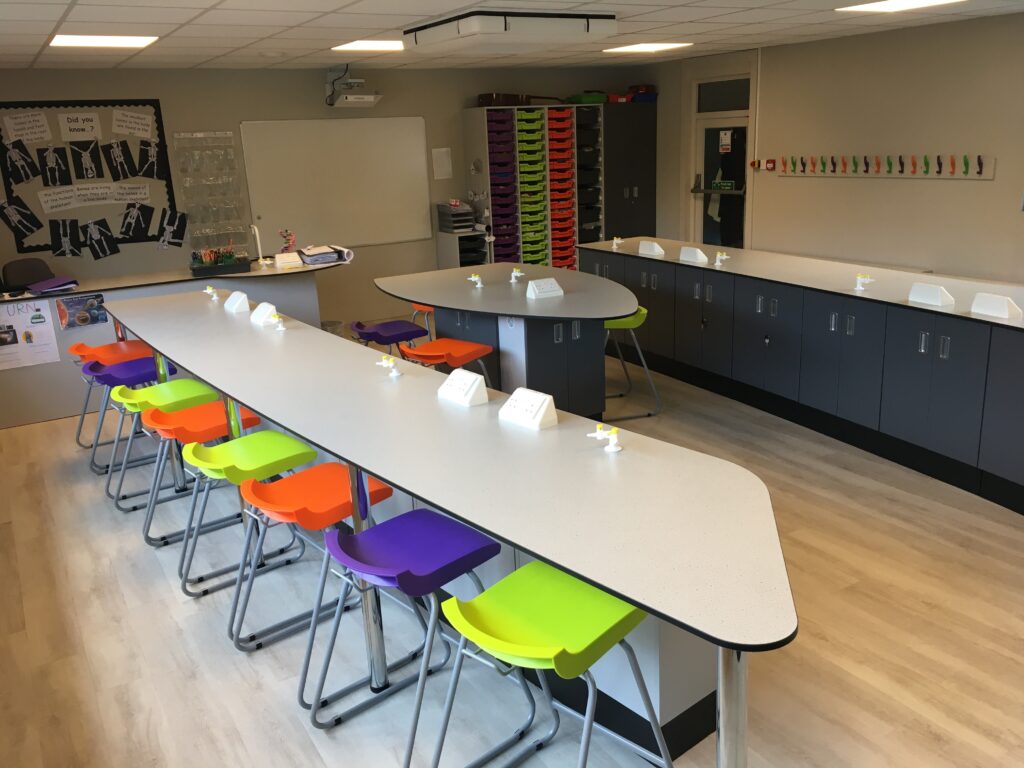 From clamps to test tubes, measuring jugs to pipettes, housing all of your day to day items neatly and in an orderly fashion is important and needs consideration from the outset.
You also need to consider storage capacity for your students' belongings, as they can create hazards particularly when specialist equipment and materials/chemicals are being used.
Effective storage space will be required to help store your students' belongings, keeping both surfaces and the floor clear to maintain the highest levels of health and safety as well as contributing in delivering a successful lesson.
We can work with you to help understand any current concerns you may have for your science labs and highlight potential areas of improvement, in terms of the effective storage of students' items and equipment.
We can overcome your storage issues by creating discreet storage around the perimeter of the room, as well as integrate storage into furniture and the service pods through cupboards, tray units and drawer space.
We can also make this storage lockable, to ensure that equipment is kept safe, secure and only accessible when a teacher is present.
Finish and Colour
The most important area of the science lab is the work surfaces, which need to be extremely durable. We are able to offer a large range of different materials to meet this need.
Our Trespa Toplab Range is specifically designed for use in science labs and has great chemical and water-resistant qualities. As a compact laminate it is extremely hardwearing, easy to clean and comes with a 10-year guarantee.
We also offer a number of other worktop finishes for the various science disciplines, including traditional hardwood worktops and solid surfaces such as Corian, Velstone and others.
With extensive experience manufacturing to COSHH standards, we can advise on the best materials to use to ensure your furniture is durable and safe.
As much as you want your science labs to be practical and safe, we also understand the importance of aesthetics and creating a professional look and feel to the space.
This could be as simple as coordinating your Gratnells tray colours with the colour choice of your stools, or it could be through having the door and drawer front material choice to contrast with the carcass material.
We can also work closely with you to specify a finish that perfectly matches the colour scheme of your school branding/logo.
Being involved early on in the process helps us listen to your requirements and gives us the time to establish the best way forward, through meetings with your colleagues and us providing hard samples for you to see and feel the differences we describe.
One thing we have seen many schools implement is assigning a different colour scheme to each science discipline for physics, biology and chemistry.
Stay up to date with furniture design trends
Subscribe to our newsletter and follow us on Twitter or LinkedIn.