Witley Jones celebrate 25th Anniversary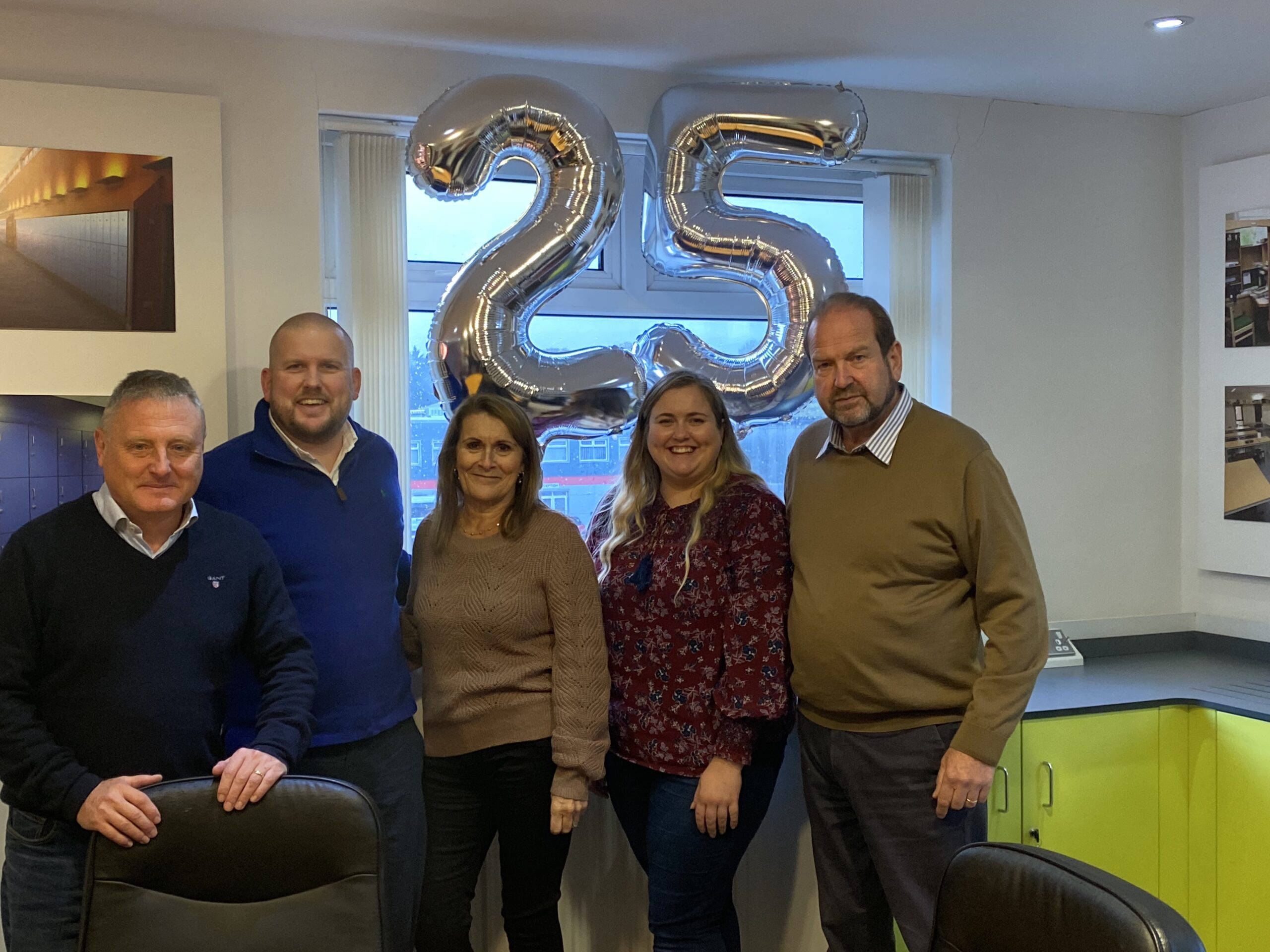 On Wednesday 23rd November, Witley Jones Furniture celebrated 25 years in business, designing, manufacturing and installing bespoke school furniture across the UK.

From creating the first business plan in the dining room of the family home, Chris and Jane Jones have grown the family business to where it is today with 30 staff, welcoming Simon Downes, Managing Director, in 2007, followed by their children Matt and Lucy some years later.

Witley Jones Furniture has developed a strong reputation within the independent education sector as a reliable and innovative school furniture partner, resulting in long term relationships with a number of schools including Radley College, Bromsgrove School, Winchester College and Marlborough College.

"Jane and I are very proud of what we have created, beginning with 4 members of staff to now employing 30 people, with a strong, well respected brand in our market place." commented Chris Jones, Chairman.

"One key reflection from the past 25 years, we have built a business greater than our initial expectations, which has lead us to where we are now with our children Matt and Lucy being directors alongside Simon.

"I have always been driven by customer service and so is our team, that is a huge part of our ethos that Jane and I have instilled that throughout the business. As a result, we are proud that Witley Jones Furniture is a sustainable furniture manufacturer that isn't reliant on any one person." commented Chris Jones, Chairman
Alongside Chris and Jane, Simon Downes has worked tirelessly to implement structure, processes and develop people to drive the growth of Witley Jones, which has culminated in the past 12 months being the best performing year to date.

"We have come a long way since when I first joined Chris, loading wagons on a Friday night and being on the edge banders on a Sunday. Over a period of time, we have gradually put the building blocks in place to grow in a sustainable way, starting with Chris focusing on production whilst I was responsible for new business. Streamlining our processes and operations has been crucial to our success too.

"My focus over the past 5 years has been on diversifying the business slightly whilst maintaining our really high standards and loyal customer base in independent education. We are expanding into working with local authorities and academies and producing a range of subcontract work for companies in other sectors.

"I am most proud of the strong and well-known brand within the independent sector and number of long-serving employees. For me, our greatest achievement is when developing our staff from within, helping them to progress through the company."


Humble beginnings to Family Business
Witley Jones has been ever present for both Matt and Lucy, Chris and Janes' children, with them both remembering their parents working at the dining room table through to spending their younger years around the factory.

Having gained a great deal of experience across all areas of the business both are now directors, responsible for the growth as well as the day-to-day running of the business alongside Simon and with the support of Dave Manser.

Matt began by working on the shop floor and fitting furniture during summer holidays, leading to now developing his own portfolio of clients and steering the direction of the business.

"I have a great amount of pride in mum and dad in getting the business to where it is today. From seeing it start at home, moving into the first factory before moving to where we are now with the continued investment in machinery and tooling.

Witley Jones is much more than the family business, there are a lot of other key people who have been with us a long time and crucial to our success. This is something that we hope to continue in next stage of the growth and development.." comment Matt Jones, Director.

Lucy started her career journey in 2015 as an accounts apprentice, supporting Jane with the finance and accountancy side of the business, leading to becoming a director in recent years.

"Our parents alongside a whole team of people have built this business that I now have the privilege to guide into the future.
"To see the level of growth since starting when I was a young child is huge. I look forward to continuing the success and being involved with the strategic decision making with the rest of the team.
"Our aim is to grow into other complimentary sectors to enhance the output and production across the year but our school work will always be our focus, it is where our experience and expertise lies." commented Lucy Jones, Director.
Future vision for Witley Jones
With Chris and Jane set to take a further step back, Witley Jones is in a safe pair of hands with the team of directors supported by Dave Manser to forge ahead with the growth ambitions of the business.

Following a successful period after COVID19, consolidation in the current education market is at the forefront whilst continuing to grow the subcontracting side of the business.

Chris will be focusing on enhancing the sustainability credentials of Witley Jones as well as taking a keen interest in the continued investment in new technologies.

Simon Downes' aim is "to focus on the continued, sustainable growth of the company year on year, building on our reputation in the education market whilst exploring into new sectors.
"With Matt and Lucy at the helm, alongside Dave who drives us all on with his ambition and fine eye for detail, Witley Jones is well positioned to achieve our aims as well as proven to tackle any challenge we encounter."

"We always stand by the ethos that has got Witley Jones to where we are today – We do it right, we do it on time, we do it to the budget, we do what we say we are going to do, every time."
Stay up to date with furniture design trends
Subscribe to our newsletter and follow us on Twitter or LinkedIn.