Use of materials: A key consideration in furniture design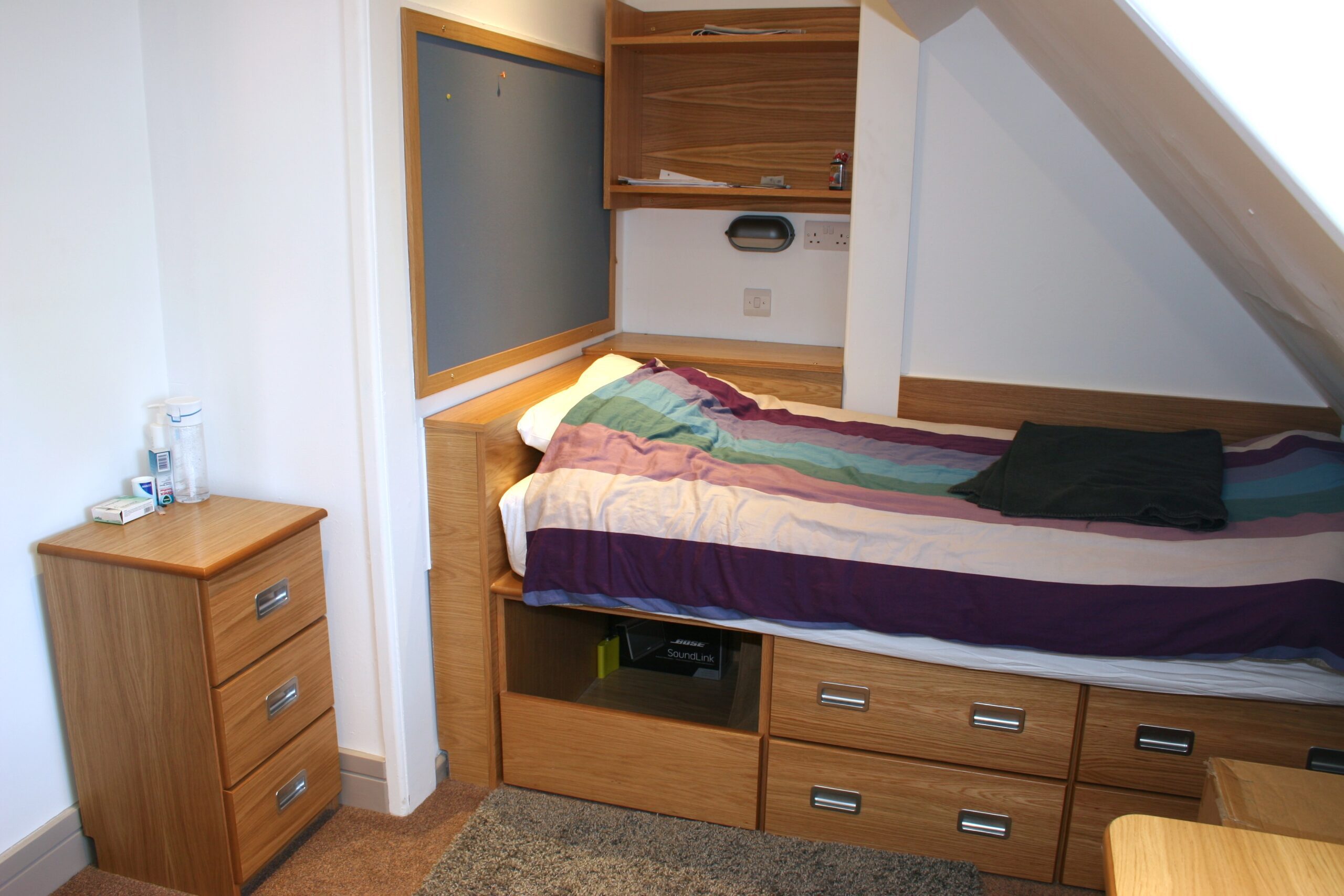 Designing and manufacturing furniture for the boarding school environment requires careful design consideration and selection of materials.
We wanted to share how the use of materials can affect the overall finish, purpose and impact of furniture and explain how we support boarding schools in selecting the most appropriate materials based on their needs.
Whether it is creating furniture for learning environments or living spaces, furniture within the boarding sector tends to be much more design led, whilst also still needing to be a practical solution.
Achieving this balance comes from looking at the type of furniture, what it will be used for and the space it is intended for, to ensure the materials chosen are in line with these factors.
Material sourcing at Witley Jones
We understand the importance of materials and will work closely alongside you to understand your needs.
Utilising our knowledge and experience, we can then advise on the best materials to meet these needs, both in terms of a practical sense and aesthetically.
Sustainability
Sustainability is a key cornerstone at Witley Jones and we have introduced several processes and procedures to ensure we are operating in a sustainable way, and in turn supporting our customers in being sustainable when it comes to their furniture.
We use a variety of materials for our furniture products including natural veneers, melamine faced MDF and Plywood. We only use ethically sourced and sustainable timber from FSC and PEFC accredited suppliers.
You can be safe in the knowledge that Witley Jones is continuously looking to reduce its carbon footprint.
Quality and Craftsmanship
Materials play a crucial role in creating furniture that is of the highest quality and craftsmanship.
Quality bespoke furniture will help your school to make a great impression on both current and prospective students and parents alike, demonstrating an attention to detail and dedication to providing your students with the best environment, where they feel comfortable and can flourish.
We pride ourselves on the quality of craftsmanship on all of our projects and to achieve this, we carefully select our materials based on their strength and durability in order to withstand intensive daily use in a school environment.
We offer a 5-year fair wear and tear guarantee on all of our projects, giving your school complete peace of mind that you are investing in quality furniture pieces that will stand the test of time.
We also offer a number of upgraded hinge and drawer runner options, which helps to increase the durability of the furniture.
Safety
We use formaldehyde-free lacquer on all veneered items of furniture, to ensure the highest levels of safety.
Products containing formaldehyde have been found to gradually release the compound into the air where it can be inhaled. This can result in health issues for individuals exposed to the product.
With students using school furniture on a daily basis, it is essential they are not being exposed to harmful chemicals.
Our formaldehyde-free lacquer still offers a robust layer of protection to furniture to support their durability, without the safety risks that the use of formaldehyde presents.
Value for Money
In any education setting, getting the most out of your budget is essential and you should be able to achieve this without having to compromise on quality.
We can support schools and provide furniture solutions that perfectly meet their needs, whilst being in line with budgets.
It is important to consider how maximising your spend and making that initial investment in the best materials can help you to achieve a better return on investment, supporting you in achieving solutions that will last for years to come.
No matter your budget, we can support you.
We are proud to offer a large range of different materials and finish options to meet the customers' requirements.
Whilst we do have a standard range of both melamine and veneered MDF finishes, we are able to source a much larger range of materials and finishes from all the leading brands with which to make your furniture.
No matter your requirements, the Witley Jones team will work to meet your needs and create furniture solutions that go above and beyond your expectations.
If you are currently looking at transforming a space within your school estate, we can work with you to create practical solutions that are designed with quality materials to help you get the most for your money and achieve the desired look and feel.
Stay up to date with furniture design trends
Subscribe to our newsletter and follow us on Twitter or LinkedIn.